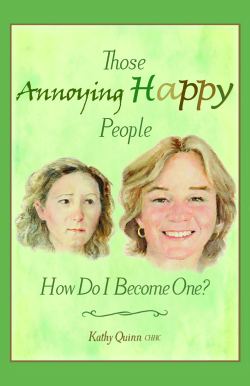 We've all encountered those irritatingly happy people - the ones who seem to be genuinely smiling and unruffled by their circumstances. But as much as we want to roll our eyes at them, if we're honest with ourselves, we are frustrated because we wish that we, too, could be that happy.

I know this dilemma well. Having faced my own long season of suffering, I discovered a surprisingly straightforward approach to emotional healing and personal transformation: choosing happiness. This is, of course, a process. It requires patience, determination, and persistent practice. But if you are willing to follow this path, and the step by step process in my book, you will be on your way to an authentic and happy life. I show you how to face the physical and emotional challenges that hold you back and include questions and activities that engage you in your own transformative journey.

Are you ready to let go of past pain, needless expectations, and debilitating fear? Open this book, take a deep breath, and step toward the freedom of choosing happiness.




Testimonials
This book is a very well-organized and eminently readable one of the self-help genre. The author offers an easy-to-follow method for working through personal issues that get in the way of allowing one's natural, happy state to manifest. She focuses on being one's authentic self as a pre-requisite for happiness, which is very encouraging to those whose happiness has been compromised through pleasing others at their own expense. A solid foundation is laid for any reader who wishes to further his or her self-understanding and to continue along a rewarding path of growth and happiness. Reading this book is time well spent ... Marilyn
Kathy demonstrates so much wisdom. I can see how the book can be very helpful for many, especially those who are newer to the spiritual path. It's a great, comprehensive guide to navigating evolution. Kudos to you, Kathy! ... Lura
Purchase Book